Brad Paisley had a quirky response to Westboro Baptist protesters in Kansas Sunday night (June 1st). Picketers outside the venue showed up to express their distaste for "drunks" and "sinners", which is quite ironic due to Paisley's well known abstinence from alcohol.
"God hates drunks" and "Sin breeds violence" are just a few of the remarks expressed on the protesters' signs. Paisley cleverly responded with a hilarious photo and a cheeky caption.
"Hopefully they can hear the show out here. We'll play loud," he said along with the photo (below).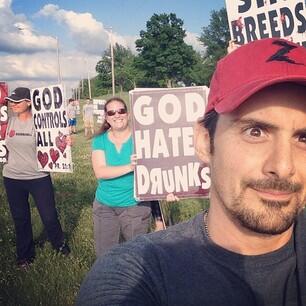 The public outrage expressed is of course in reference to one of the country star's most popular tunes "Alcohol", although the purpose of signs like "God controls all" and "Sin breeds violence" are seemingly lost in translation.
This isn't the first time the Westboro Baptist congregation has protested shows in Kansas. Last September they protested Vince Gill's show, and more recently, alternative/pop singer Lorde's show at which they denounced her for "teaching young people how to be indolent rebels."